The vital role of a mentor for first-year nurses
8 min read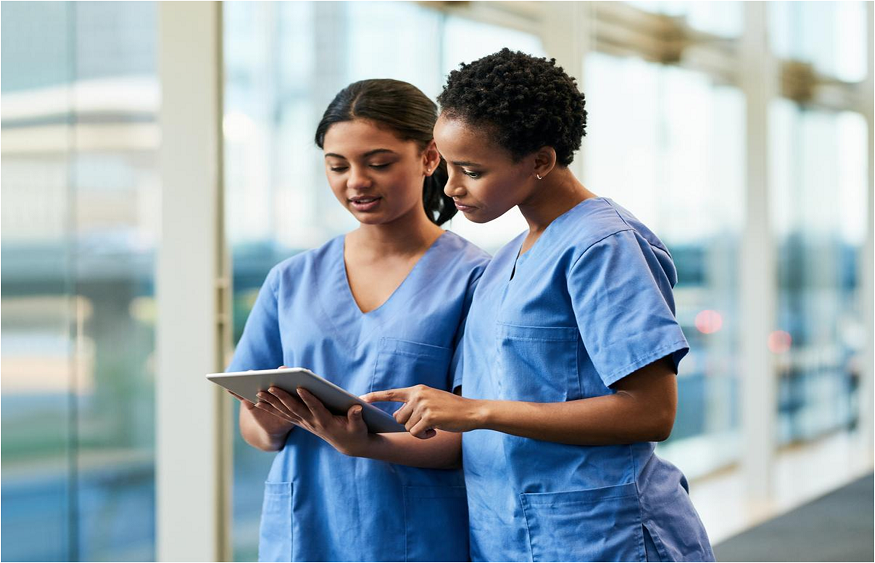 Starting a new job is exciting and challenging, and first-year nurses will have a wealth of theoretical knowledge waiting to be put into practice. Nurses are passionate about working with and caring for people, and while their studies give them lots of knowledge and skills, there is much they can learn from on-the-job training. First-year nursing studies are an essential element of a nurse's education, but in the dynamic world of healthcare, it is vitally important to build up practical skills to give nurses the confidence to move into a full-time nursing role.
So, how can nurses develop that confidence that will assure them that they are capable of delivering an excellent level of patient care? How can nurses fast-track the learning curve that gets them to a position in which they feel knowledgeable and confident in their role?
It is important that new nurses are active in their learning and involve themselves in their healthcare institution. New nurses should ask questions, be sociable with fellow staff, and identify those who are willing to mentor and guide them through their learning process. Mentors are an excellent way for first-year nurses to gain invaluable insight, perspective, and guidance from experienced nurses. This guidance can accelerate a new nurse's learning, and adequately prepare them for their future careers.
What is a nurse mentor?
Nurse mentors are experienced nurses who choose to share their knowledge and practical expertise with newly qualified nurses, guiding them through their first few months of practice, and instilling confidence and a professional approach in their dealings with patients and colleagues.
The relationship between junior and more experienced nurses is often symbiotic, giving senior nurses a chance to practice their leadership skills and gain experience as educators, while the newly qualified nurses are guided in the development of practical skills and gain insight into the many aspects of healthcare that a career in nursing has to offer. Therefore, mentorship in nursing is pivotal in shaping nursing practice and healthcare quality. Universities such as Texas Woman's University (TWU), offer masters programs that impart the skills & confidence to their students through a distinguished faculty. The online Master of Science in Nursing – Family Nurse Practitioner at TWU is designed to help nurses expand their problem solving and investigative capabilities, thereby allowing them to advance their practice and grow into leaders.
Nurse mentors provide junior nurses with a solid base when entering nursing practice and can help guide them in specific directions that may suit their individual strengths and qualities. Mentors generally have a positive impact on the mentee's career, not only in the present circumstances but in their future line of study as well. They may recognize aptitudes in a junior nurse and recommend a particular line of work, such as nurse informatics or MDS coordinator.
The role of nurse mentor may also include mentoring higher-level nurses, such as nurse practitioners who have just qualified with a new set of skills, or nurses who are moving into an area of specialization.
How new nurses benefit from mentoring
The experience of starting in an organization for the first time as a junior can be quite overwhelming, but with access to a nurse mentor, juniors' induction to their new roles can be made easier. Mentors will ease new staff into their routines, introduce them to the staff members with whom they will be interacting, give them a guided tour of the facilities and layout of the environment, and instruct them on the policies and procedures relevant to their new jobs.
New staff will also receive a proper introduction to the patients who will be under their care. Mentors can explain particular case details and provide extra insight into patients' individual needs.  The nurse mentor's main priority is patient safety and the more knowledge they equip new staff with, the more likely they will enjoy their work and deliver excellent patient outcomes.
At first, new staff may be required to shadow their mentors to observe and learn from them. Watching someone practice helps to confirm what new staff have been taught in the classroom (or online), and it also serves to improve their memory retention.
A good nurse mentor shares information about what they are doing and, in time, allows juniors to take over and practice while they oversee the process, only stepping in when necessary.
Having a mentor that a junior can trust gives them the confidence to discuss procedures while putting their knowledge into practice. New staff should feel secure in the knowledge that their mentor will offer support in difficult situations and not allow them to make mistakes. Mentors should periodically reinforce what juniors have learned by asking questions about the work they have been doing and reinforcing information where necessary.
Formal mentorship programs usually last for a limited period only, and for this reason, new staff need to ensure that they get the full benefit of the service while they can. To maximize the learning process, staff must feel comfortable asking questions and discussing any challenges they are facing. Juniors mustn't be afraid to ask questions and make notes.
Healthcare personnel are often required to work long hours, and there will be times when situations arise that can be exhausting. A good example of this is a clinical emergency or staff shortage where staff may be required to work extra hours or take on additional duties. Nurse mentors can offer advice on how to deal with the stress and fatigue that are a natural result of working under these conditions. They can give pointers on both physical and mental self-care, as they have experience dealing with difficult situations.
As long as new staff have someone they can turn to for advice or to discuss their problems with, they will better cope with their new role and the challenges that come with it. In time, juniors will develop their own coping mechanisms, but while they have the opportunity, they should take on board as much advice and knowledge as they can.
Working closely with someone who has similar goals and ambitions often forges great friendships. A nurse mentor may be encouraged to recount experiences that have had an impact on their career, be they inspirational, educational, or simply funny. Juniors can gain knowledge and insight from these stories, as well as form a bond with their mentor that they can lean on for support throughout their career
How medical organizations benefit from nurse mentorship
Clinical institutions recognize the benefits of mentoring new staff. One way it can be helpful is in the way it relieves some of the pressure on general nursing staff to train new nurses. Having nurse mentors who are dedicated to training junior nurses ensures that training is done properly and encourages uniformity in methods of practice.
Mentors ensure that new nurses understand and can follow the standard evidence-based procedures and policies applicable to the individual institution, as well as broader policies instilled by federal healthcare rules.
Nurse mentors play an important role in identifying weaknesses or gaps in the training process. They can bring it to the attention of the educators and make recommendations where appropriate. They may also identify problems with individual nurses and remedy the situation before it affects patient outcomes.
Nurse mentors are generally passionate about excellent patient care, and their enthusiasm and passion are conveyed to their mentees. They set examples with their caring and professional manner in dealing with patients and instill the importance of accuracy and efficiency. Junior nurses learn from these examples, be it by following the correct procedures when treating patients, interacting with people across all ethnic groups, or always conducting themselves professionally.
Senior nurses and mentors are loyal to their patients and the organizations they work for, and they understand that the process of mentoring junior nurses is likely to ensure the continuation of high standards of healthcare practice—a principle that positively affects everyone concerned.
Numerous studies have shown that the introduction of mentorship programs within medical institutions results in improved job satisfaction. Happier nurses and the improvement in skills and efficiency mean significant increases in staff retention rates. Employing junior nurses comes at a cost, and organizations can't afford to lose a large percentage of nurses within their first year of employment.
How do nurses go about finding a mentor?
There are formal programs that offer mentorship by senior nurses who have been specifically trained for the job. These programs normally run for a specified period. In some programs, there may be a period where the mentor remains in contact with the nurse and will answer any queries that arise. Sometimes close friendships are formed between mentor and nurse, and communication between the two may last for months or even years.
Some of the larger clinical organizations realize the value of mentoring new staff and have introduced mentorship programs as a standard procedure. In addition to acquiring nursing skills, junior nurses may be required to familiarize themselves with how the organization runs, and in these instances, mentors play an important role in ensuring that the new nurse learns the institution's policies and procedures.
If a junior nurse's clinic or hospital does not provide a mentorship program, various organizations, such as the American Nurses Association or the American Association of Nurse Practitioners, can give advice and put them in touch with nurse mentors who practice individually in this field. Our advice for finding a mentor is to start early. Nurses must know their specific requirements for mentorship and have their resume available when applying to their chosen organizations.
Alternatively, nurses may be lucky enough to befriend someone senior at work who is happy to pass on their experience. Building good relationships with fellow nurses not only helps junior staff learn more, but it is also an important part of working as a successful team—an essential component of excellence in patient care.
When pairing new nurses with mentors, various factors are considered to ensure a good match. Career goals and specialization interests can play a role in the selection process; however, junior nurses may want a more general mentorship to begin with. Junior staff should be aware of their needs so that they can convey them in a clear manner. In an interview with their proposed mentor, it helps to ask as many questions as possible so that they can ascertain whether their personalities, goals, and interests are likely to contribute to a positive working relationship.
Mentorship as a solution
Mentorship means giving new nurses solid training, instilling professional ethics, and building confidence in their practice. Medical healthcare institutions can go about their business of providing quality care for their patients with peace of mind, knowing that they have mentors in place to train and look after new staff.
Mentors, on the other hand, find themselves in a position where they must reinforce their nursing training with a focus on their professional outlook and clinical knowledge. They also have the advantage of practicing leadership and educational skills while ensuring positive patient outcomes. Mentorship in clinical environments is a synergistic option where everyone concerned can benefit.